Planning a dog sledding holiday in Norway? You can easily combine a dog sledding tour with other experiences to make the most out of your holiday. In Tromso the Camp Tamok Wilderness Centre, is the start and end point for a lot of winter activities. This centre is just outside the city, so you can stay in Tromso city centre or spend a night at the camp and combine your dog sledding adventure with a snowmobile or reindeer sledding tour.
If you are staying in the Gamme Cabins in Kirkenes, you have a range of activities at the same base as your accommodation – combine a dog sledding holiday with snowmobile, king crab or ice fishing tours. Here you can also spend a night at the iconic ice hotel.
Not a fan of the cold? That´s okay
Go dog sledding in Norway during the summer! Even if snow disappears, the huskies' love for running remains all year. During summer the sled is replaced by a wagon and instead of the snow covered landscape you'll ride along luscious green valleys and blue fjords. All year this activity is a great way to explore the Norwegian nature in silence – the only sound you'll hear is the dogs breathing as they go.

When is The Best Time to go Dog Sledding?
In Norway you can go dog sledding in every part of the country, during all seasons. Whether you want to go dog sledding during winter or summer time, really depends on your preferences. The dog sledding is pretty similar no matter when and where you go – the biggest change is the scenery. If you are in Northern Norway and go on an evening tour during wintertime, the Northern Lights might grace you with its presence. During day time you'll be able to see more of the landscape you are passing and enjoy a snow covered winter landscape or summerly green surroundings. The dog sledding tours are often cheaper in the summer season.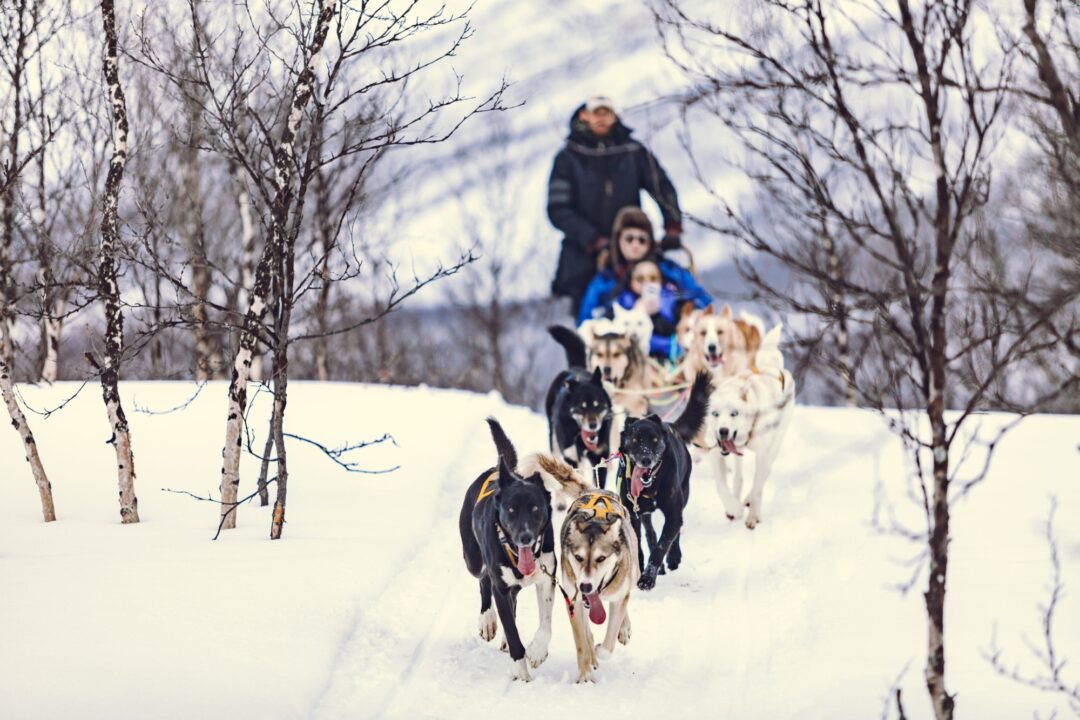 What is The Cost of a Dog Sledding Tour?
Dog sledding tours in Norway can vary in price according to time of year, the location and the duration of the trip. Typically they are around 1000-3000 NOK (100-300 euros) and children's tickets are often half price. Dog sledding packages including more activities will naturally have a higher cost, and it's really up to you how you choose to experience this activity. Maybe you feel like the added adventure is worth the extra cost, or maybe you just want to go on a short trip to see what it's all about without breaking your wallet.

Your Ultimate Dog Sledding Experience
The dog sledding itself is pretty much the same no matter the provider or the location. Happy dogs barking and jumping as they meet you at the kennel, and then running and pulling the sled in silence. Some providers offer self-drive tours where you get to mush your own team of huskies during the entire tour. Others have a guide taking charge most of the time and then you can try and mush the dog team for a small duration of the journey. Either way, the dog sledding experience is a unique activity to add to your bucket list.
Want to read more about dog sledding tours and which one to book? Check out our dog sledding tours in Tromso article!