Ice fishing
Keen to experience something different and try your luck at ice fishing? The lakes might freeze during wintertime, but the fish are still in the same place. You just have to get a little creative when it comes to catching it.
In Northern Norway the hunter-gatherer lifestyle is still standing strong, and people take pride in creating a meal based on the natural resources found in the area. The northern region is rich with berries, plants and wild game. Last but not least, the lakes have plenty of fish.

Ice fishing in Kirkenes

With thousands and thousands of lakes Kirkenes is a superb place for fishing all year. Snowhotel Kirkenes offers a chill ice fishing experience during the winter season. Provided with warm clothes you will head out to the fjord on a snowmobile sleigh. The guide will drill a hole in the ice while you prepare your fishing gear. Sink your line and wait for the fish to bite. Will you get the biggest catch of the day?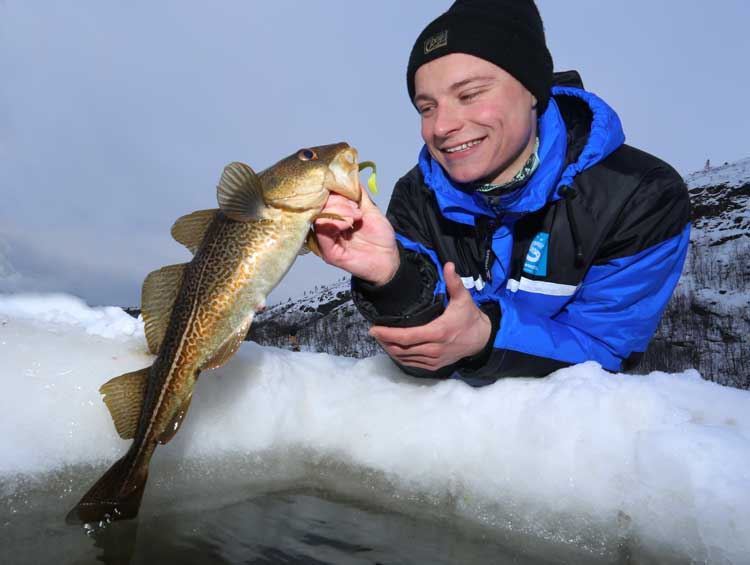 Go fishing for monsters!

Venture out to the frozen fjord and pull the massive King Crab on land. Sink your teeth in the freshest seafood around and feast like royalty. Each leg is bigger than a lobster and full of delicious juicy meat!
The tour starts at Kirkenes Snowhotel who will provided you with clothing before taking a seat in the back of a snowmobile sled. Step out on the frozen fjord and assist the fisherman in pulling the crab pots out of the deep waters through a hole in the ice. Back at the restaurant, you will enjoy a fresh king crab meal served Northern Norwegian style. No spice, no sauce, no nonsense!

Ice fishing in Tromsø
Want to catch your own meal in the Paris of the North? The Arctic Capital is the gateway to loads of different activities like dog sledding, Northern Lights tours, snowmobile safaris, whale watching, fjord cruises and more.
If you want to try your luck at ice fishing you can join a snowshoeing tour out to the frozen lake, before drilling a hole in the ice and start fishing. Tasting of the self-caught fish grilled on a bonfire is the perfect ending to the trip!