Planning a Northern Lights holiday in Kirkenes? With 200 Aurora Borealis nights per year, you should have a great chance at watching the Green Lady dance first hand.

Located 8 kilometres from the city centre of Kirkenes, you will find a cosy cabin village, centred around a hotel made of snow and ice. This magical winter wonderland holds the perfect setting for a December vacation if you are on a quest to see the Northern Lights.
At the Kirkenes Snowhotel village you can have a once in a lifetime experience, wake up and do the same thing all over again. The adventure of the Arctics awaits just a few metres from your doorstep. There are loads of evening tours where you can follow Lady Aurora's tracks and watch her dance in the night sky.
Go dog sledding with a team of fluffy companions and let the eager huskies lead the way. Take your place in the driver seat of a snowmobile and make your way through the still darkness. Relax in the back of a warm and cosy bus as the experienced driver brings you to your date with the Green Lady.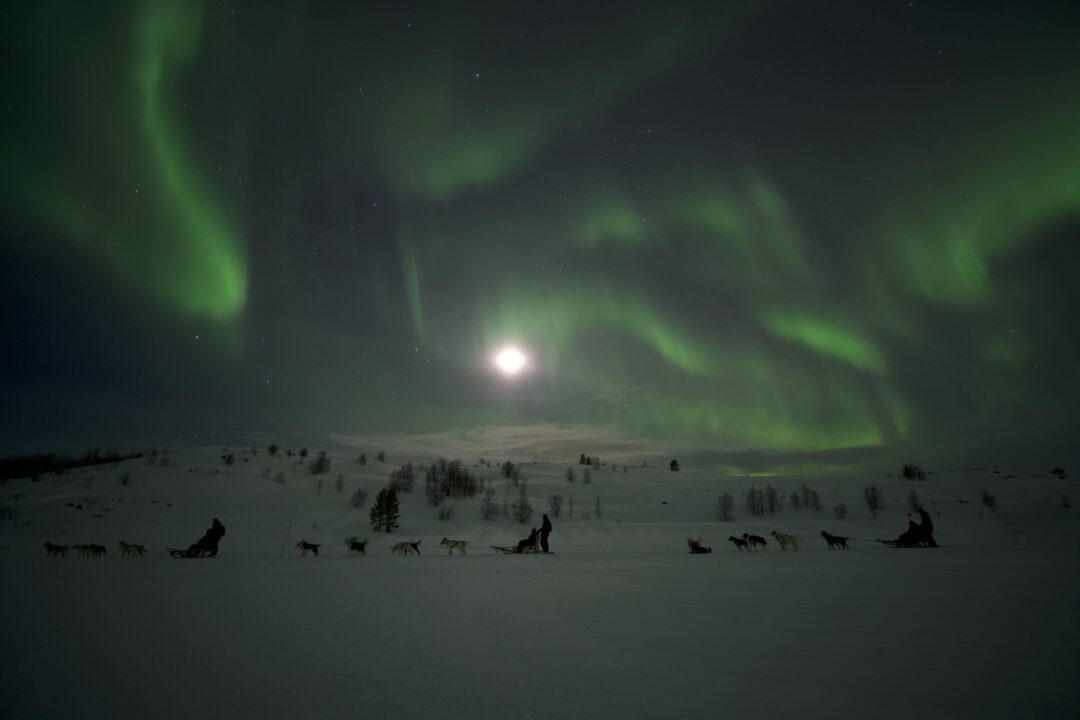 Once Lady Aurora is ready to put on her dancing shoes, she will make sure everyone sticks around and watch her perform. Brave the cold and catch her first and second act – this is a show you'll never forget.
There are also morning dog sledding and snowmobile tours if you are up for a day time adventure after seeing Aurora grace the sky with her presence. On these tours you really get to take in the scenery around you as you set off through the snow. Want to taste the freshest king crab you ever come across? Go fishing for these mighty beasts and feast like royalty back at the restaurant.
Overnight stays at the cabins include breakfast, lunch and dinner at Låven, the on-site farmhouse restaurant. Feeling adventurous? Walk through the magical ice hotel gates, spend a night on a block of ice and wish for a late checkout. Go down to the dog yard and give the dogs a cuddle whenever you want. Visit the reindeers and feed them their favourite snack from your hand. The Snowhotel Kirkenes truly is the perfect winter wonderland for a Christmas break.