Turquoise sea Meets Pearly White Sand in a Never-Ending Kiss
Many people travel south to enjoy beach life. But if you go north, maybe as far north as you can on the Norwegian mainland, you will discover that Finnmark also offers top-quality sand. Here, where the brutal Barents Sea is constantly punishing the Norwegian coast, natural forces have been shaping the coastal landscape through the millennia. The result is bright white beaches, where animals like whales, seals, and sea eagles soon are the only ones you are sharing the landscape with. You won't likely be offered a massage or cheap sunscreen here. But you might be interested in a night-time kiteboard ride in bright midnight sunshine.
Find Your own Beach

If you aren't sure of how elegant you will look in a wetsuit on a surfboard, and you really just want to relax on a beautiful sandy beach, Lofoten is still the place for you. The desktop-background-friendly Hauklandstranda ("Haukland Beach") has been voted Norway's best, and if you visit, it's easy to understand why. The turquoise lagoon is surrounded by towering mountain peaks, and if you bring a candybar or two as a calorie-packed snack, you can hike from the water's edge to one of the peaks for a panoramic view of both mountains and ocean.
From here, with a little bit of imagination, you will be able to see all the way to Sommerøya ("Summer Island"). This fishing village at the mouth of the fjord bathes in the Arctic midnight sun – a one hour drive west of Tromsø. This place is famous for its bright white beaches and turquoise waters, and a sea kayak is the perfect mode of transportation for someone who would like to explore the area from a barnacle goose's perspective. Pack a lunch, something to drink, and a camera – and the Arctic archipelago is ready for discovery. Most likely, you will find a well-hidden beach all to yourself!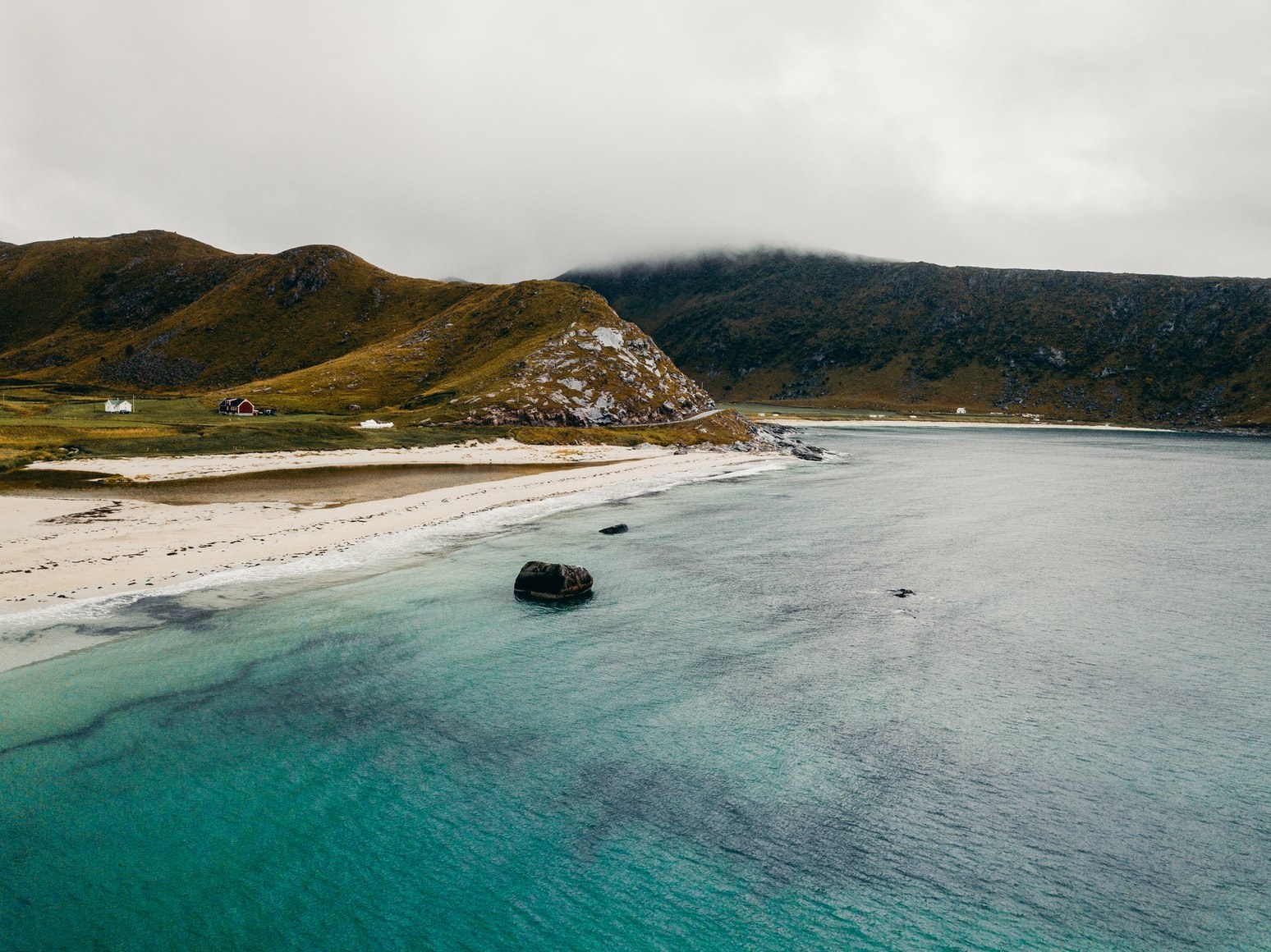 The distinctive white beaches in the north are formed by degraded calcareous shells from shellfish and marine organisms. The ravages of time have ground these pieces down to tiny particles, which today make it very comfortable for Arctic visitors to lie on. Should you get so comfortable that you fall asleep to the sound of the rhythmic waves, the good news is that you don't really need to worry about getting particularly sunburnt…
Nor do you need to worry about being run off a Northern Norwegian beach. In Norway, the law of public right of access is strong. This right means that all of nature, including the greater part of the long coastline, is open to all. That means that anyone who wants, can anchor a boat, put up a tent, or, yes, spend a summer night on, for instance, a beach. With a few provisions and a desire to explore you can thus become king or queen of your own island – as long as the royal highnesses remember to clean up after themselves after abdicating.
Because, unfortunately, Norwegian beaches are not exempt from marine pollution. In recent years, however, Norwegians and visitors alike have become more conscious of the big problem related to pollution of the oceans, and how plastic garbage affects animal life along the coastlines. This has led to countless volunteer cleanup campaigns, where anyone who wants to can help make a difference for the environment. Often such cleanup campaigns turn into social events, where you get the chance to meet the local driving forces while helping protect the unique, Arctic nature for posterity.

"The Northern Norwegian Swimsuit"
The absence of annoying beach vendors, noisy beach promenades, and already occupied beach beds is probably caused by only one thing. The water temperature. It rarely creeps above 15 degrees Celsius, and swimming this far north is indeed for the hardier souls. Still, by learning from the locals, you can frolic in the waves without screaming in too high of a voice. When the locals go swimming on chilly days, they wear a so-called "Northern Norwegian swimsuit" – also known as a wetsuit. We warmly recommend using one of these, pun intended. The suit insulates against the wet element by letting in a thin layer of water underneath the fabric. This water stays fairly lukewarm because of the wearer's own body heat, and that's how you can enjoy even Northern Norwegian bathing facilities!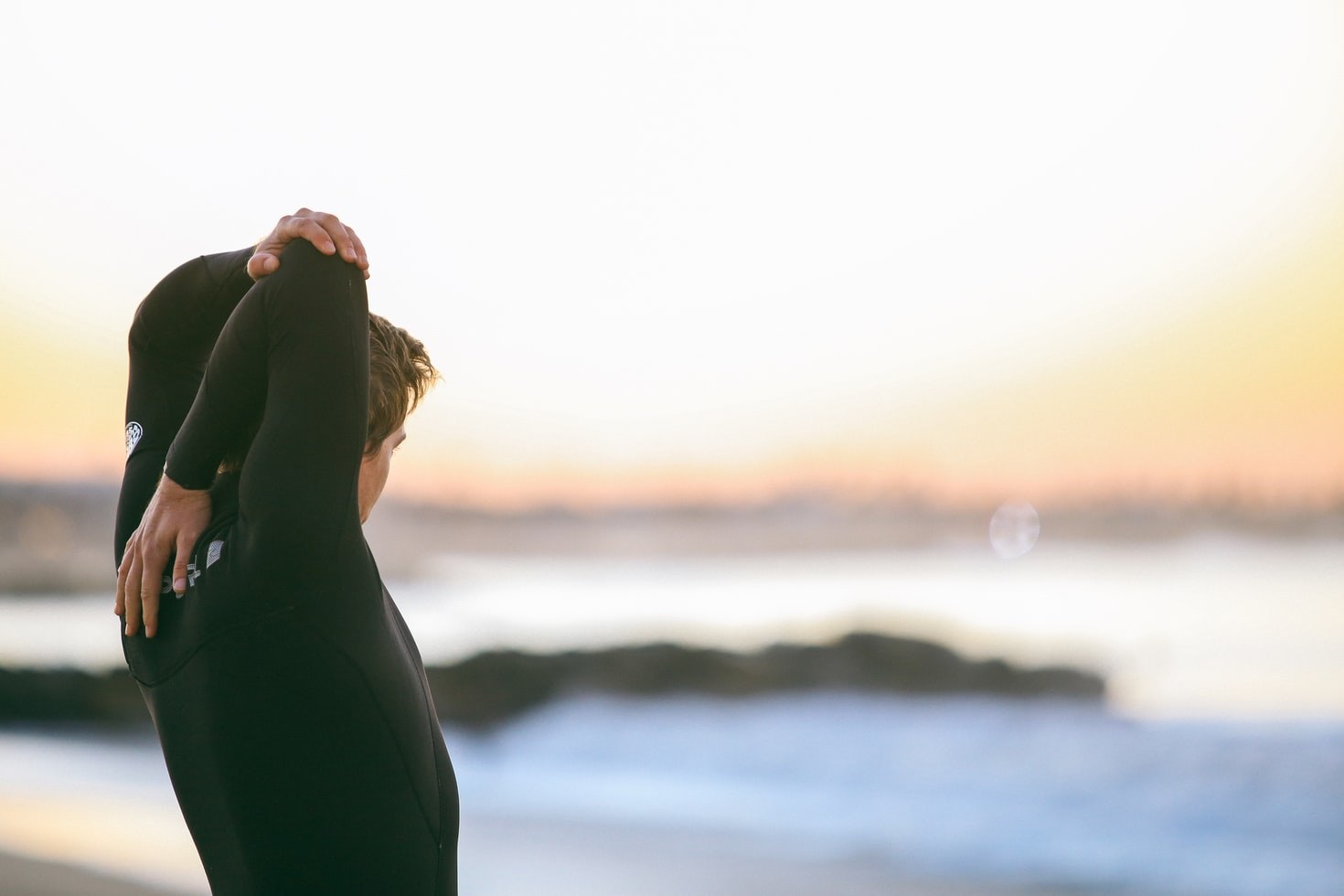 There are loads of activity options for those who are willing to enter the Arctic saltwater. The beach at Unstad in Lofoten is famous for being one of the country's best, and definitely one of the world's most exotic surfing destinations. Surfers from all over the world have found their way to this spectacular beach since the 1960s. Here, the Atlantic waves come rolling in between Arctic mountains, before they break against the beach at the end of the fjord. Whether you surf in the summer under the midnight sun – or in the middle of winter with the Aurora Borealis dancing in the sky above – experiences like these are hard to come by on most beaches around the world. Just remember your "Northern Norwegian swimsuit".
A Different Type of Beach Vacation
Norway may not be synonymous with the phrase "beach vacation". If you search for the word "beach" on the Internet, Norway probably won't show up among the first hundred matches, and Northern Norway – maybe even less so. Nevertheless, beach life and Northern Norway are indeed a combination anyone who appreciates areas where land meets water should experience.
The northern beaches are unique in a global context – and here, you will never have to fight for an unoccupied beach bed. Because there are no beach beds. Nor will you be bothered by pesky beach vendors – or by pounding assembly line music from cheap speakers along a crowded beach promenade.
On the contrary, the beaches in Northern Norway are found in the middle of unrivaled and majestic nature. Here, you'll have a golden eagle soaring watchfully above you as you wander through the open landscape, looking for your own, completely private beach. The only thing you hear is the sound of the waves, beating against the beach the same way they have done for thousands of years.