Looking for the best dog sledding tours in Tromso? In this article, you will find some popular options loved by our wonderful guests. No matter which tour you choose, our happy dogs would love to take you on their next adventure.

Popular Husky Safaris
Dog Sledding Day Time (Camp Tamok) – Glide through the snowy terrain, surrounded by Arctic mountain landscape and scenic fjords. On a daytime tour, you really get to enjoy the scenic surroundings in this area. Finish the day off with a warm meal around the fire before heading back to Tromso.
Dog Sledding Evening (Camp Tamok) – The evening tours are popular as they offer the chance of spotting the Northern Lights during your tour. This tour is identical to the one above – it just starts later in the evening. You won't be able to see as much of the scenery on this tour, but if Lady Aurora illuminates the sky with shimmering green lights, it will definitely be a moment you won't forget.
Dog Sledding in Breivikeidet – The terrain in this area is flat and more easygoing, making it a popular tour. Take a break and enjoy a piece of cake and something warm to drink in beautiful surroundings. There are both daytime and evening tours from Breivikeidet as well – choose between 08:30, 10:40, and 19:30 departures.
Dog Sledding Summer – The snow might melt but our huskies love to run all year round. Enjoy stunning forest and mountain landscapes as your trusted companions pull the wagon. During summer there are 9 am departures Monday to Friday, where the dogs take you on an adventure through forest roads and around the world's northernmost 18-hole golf court.
See all our dog sledding tours here, or read more about dog sledding tours in Tromso. All of our options are self-drive tours allowing you to drive your own dog sledding team.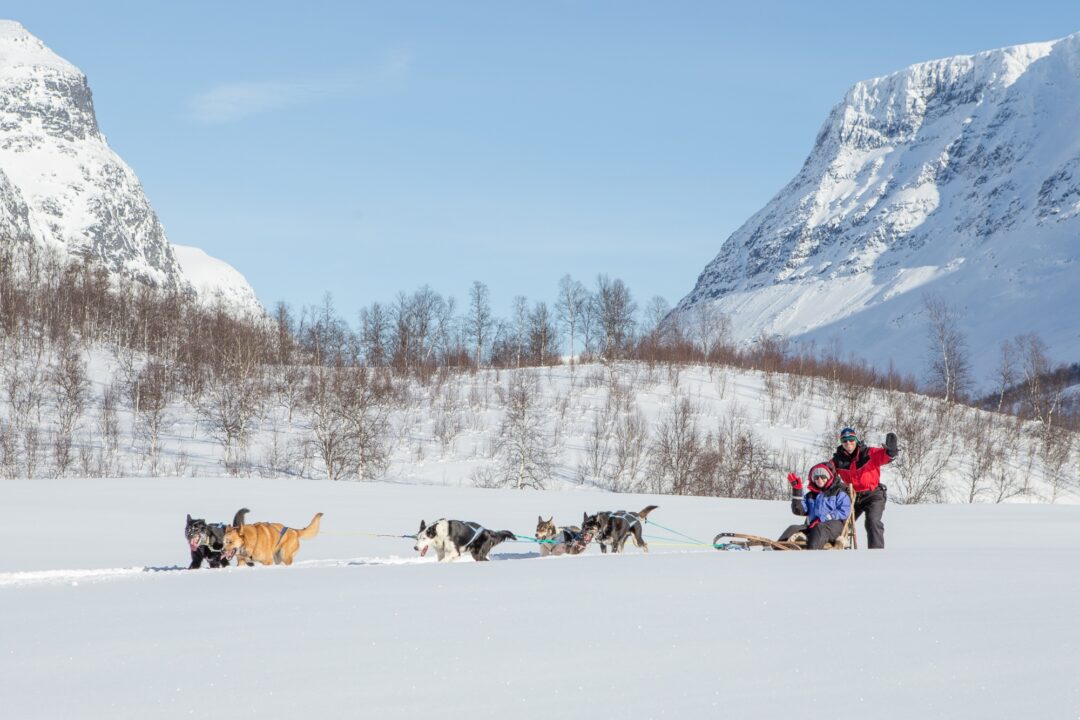 Self-Drive Tours
All of our dog sledding safaris are self-drive tours giving you the responsibility of your own team of huskies for the day. With two people per sled, you choose if you want to be the musher driving the sled or the passenger relaxing in the back. Actually, you won't need to choose – there are plenty of opportunities to switch places along the way so that you can experience the adventure both ways. You don't need any previous experience to mush your own husky team – all you need is a little sense of adventure. You will be provided with all the information and safety instructions you need before heading off. And, by the way, the huskies wanted us to let you know that cuddles are more than welcome during the stops!

How to Find the Best Dog Sledding Provider
It can be tricky finding the best dog sledding companies and providers as everyone will argue that their tour is the one you don't want to miss. And truth be told, there are a lot of good tours out there, not to mention a lot of great dogs! So don't take our word for it, check out some of our dog sledding reviews in Tromso.
What is the Price of Dog Sledding?
The price of our dog sledding tours in Tromso are typically around 2000 kroner. If you book a package tour including more activities the prices will naturally be higher. Combining dog sledding and country skiing has prices starting at 2845 kroner, a full day package at Camp Tamok where you combine one day time activity with one evening activity the prices start at 3490 NOK depending on which activities you choose. Our overnight package at Camp Tamok starts at 4290 NOK.