If you really want to experience what it's like to have the wilderness to yourself, Norway's northernmost county, Troms and Finnmark, is the place to go. This extensive region borders Sweden, Finland, and Russia and offers treasures few other places in the world can boast of. The roads and inhabitants are few, but the great experiences in the summer nights are many. In some areas curious wanderers can walk for days through untouched wilderness without meeting a soul.

In summer, salmon fishing along the region's many waterways is a great experience for anyone who wants to try their luck. The world record for salmon caught on a rod belongs to Tanavassdraget where a fish of almost 36 (!) kilos (79 pounds) finally met its maker. Still – with its 1100 kilometers of river it's not exactly easy to know where the next record fish is hiding. Even though an estimated third of the world's wild salmon population belongs to Tanavassdraget, you'll need plenty of patience and skills to hook a fish. Luckily, the reward for such an effort might be both an exceptional adrenaline boost and an exquisite, self-caught evening meal.

Fishing During Winter
Just because the lakes are covered in ice, the fish have not gone anywhere. Ice fishing is a very popular activity in Northern Norway. In a region that's frozen half the year, you sometimes have to be creative when it comes to getting the catch of the day. Fishing is the main industry for a lot of people in Norway and it's also a popular pastime activity for a lot of people both during summer and winter time. Ice fishing is particularly popular during Easter time when the winter slowly is starting to let go and the weather is slightly milder than the previous months. It's a common sight to see locals on skis or on a snowmobile venturing out on the ice in hopes of catching trout, char, perch or pike.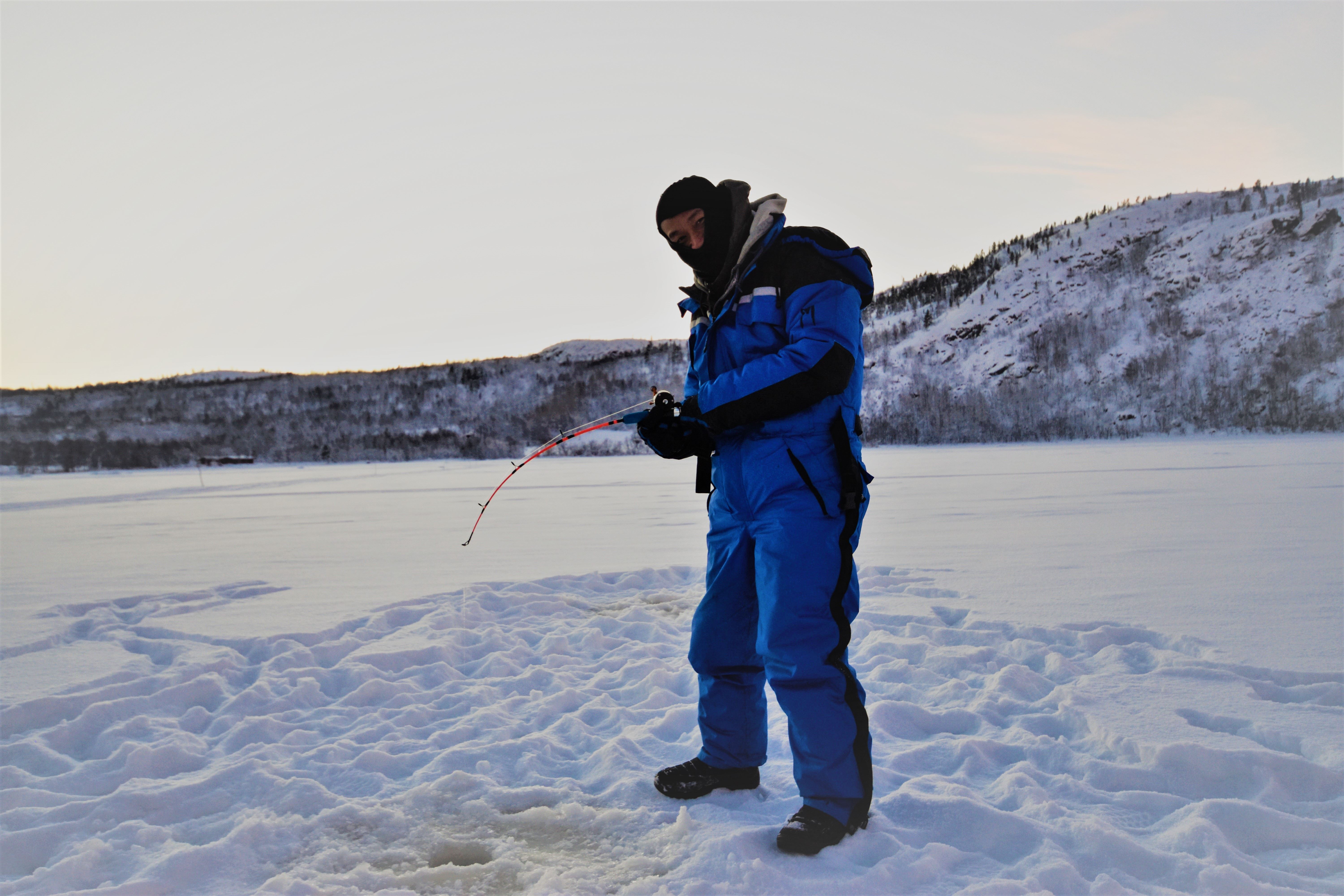 Under the White Peaks of the Lyngen Alps
Northern Norway is definitely the right place for someone who is looking for peace and quiet. In our modern world, the opportunity to take it easy, far from people and noise, is a privilege that's becoming more and more rare. In Lyngsalpene in Troms and Finnmark, travelers can find both peace and nature experiences – with enough elbow room for most.
This protected landscape is wedged between two fjords, and consists of high peaks, snow-covered glaciers, and hidden valleys. Majestic, alpine mountain formations rise sharply up from the surface of the sea, creating a vista that has fascinated people for thousands of years. Today, visitors can explore the area by foot, or perhaps choose a mountain bike, an ocean kayak, or a kiteboard.

Experience the Wilderness on a Snowmobile
The snowmobile is the perfect way to travel on snow and it gives you the chance to explore areas not accessible by car. You don't need a road or a trail to travel with a snowmobile – just open terrain and plenty of snow. You can go on a snowmobile safari in Kirkenes and explore the wilderness yourself. Travelling to the more remote areas gives you the chance to experience the real wilderness with beautiful nature and distant mountains only lit up by the moon and the snowmobile headlights. There won't be any houses, other people or any sort of civilisation – just amazing views and total silence.