A dog sledding adventure is an exhilarating way to explore the Arctic wilderness, and when combined with the enchanting beauty of the Northern Lights, it becomes an experience of a lifetime. Kirkenes and Tromso are both excellent locations to experience the magic of the Northern Lights and dog sledding. Let's explore the unique features and offerings of each destination.
Kirkenes – Hunting Northern Lights by Husky:
The sparse and beautiful landscapes of Finnmark is the perfect location for an exhilarating dog sledding adventure. Led by a seasoned musher, you will journey through the Arctic tundra in search of the magical Northern Lights. Experience the tranquility of the snow-covered nature and the breathtaking views of the frozen fjords. This is a simple and relaxing dog sledding tour allowing you to sit back and relax in the sled while you are on the lookout for the magical Aurora beams.
There will be a short break during the trip, so that we can share some stories and let the dogs rest for a bit. If the Northern Lights appear you get some time to admire the show and photograph it. Book your Hunting Northern Lights by Husky tour here.

Read more: Dog sledding in Norway.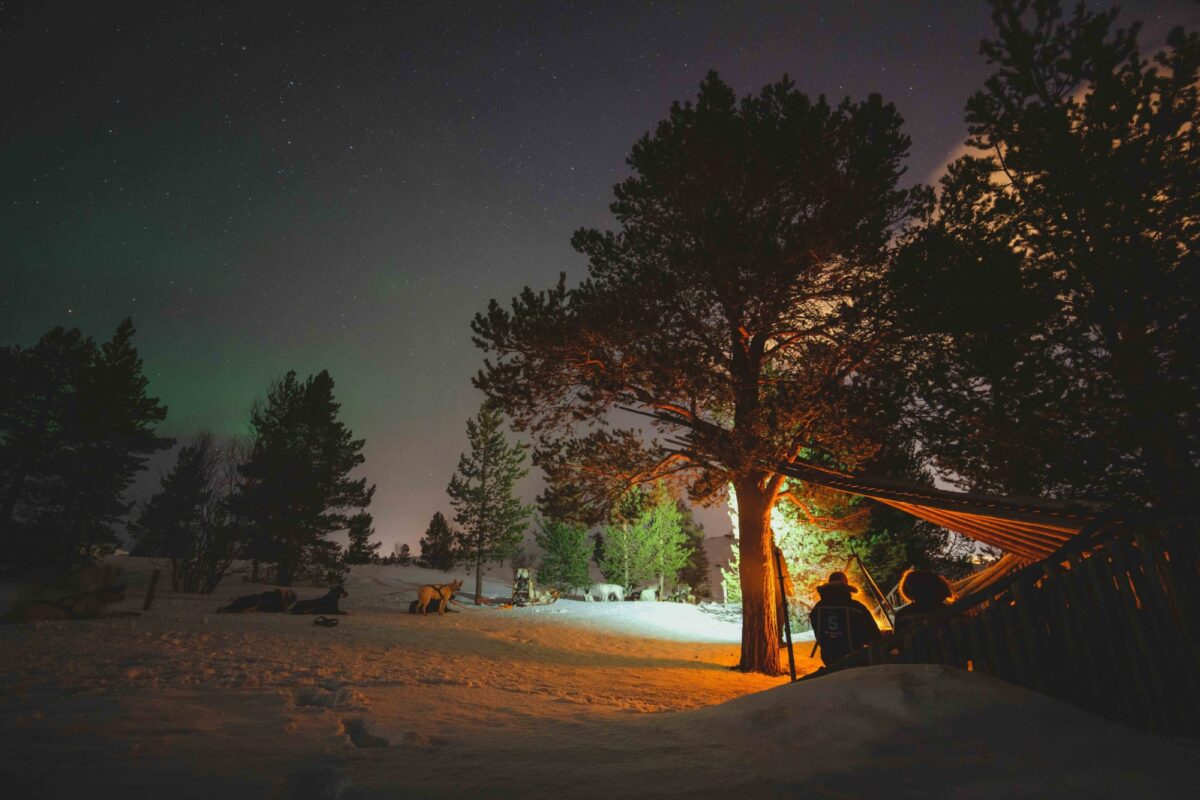 Tromso – Dog Sledding Evening Tour
Be a musher for the day – drive your own dog sled! This dog sledding evening tour requires no prior experience with dog sledding, all you need is a reasonable level of physical health and a thirst for adventure. This dog sledding evening tour lasts about 1 hour and 30 minutes, where two people share one sled. Swap places during the tour and take turns being the musher (dog sled driver). While this tour is not solely focused on chasing the Northern Lights, the dark winter evenings present a wonderful opportunity to witness this natural spectacle during the tour.
After your dog sledding adventure, you'll have the chance to relax, warm up ,and enjoy a hot meal around the open fire.
Read more about Dog sledding tours in Tromso.
Ready to emBARK on an adventure?
In Kirkenes and Tromso, Northern Lights dog sledding offers a truly unique and captivating way to explore the Arctic wilderness. Whether you choose to venture into the arctic fjords and tundra of Kirkenes or enjoy an evening dog sledding adventure in Tromso, the combination of huskies, snowy landscapes, and the possibility of witnessing the Northern Lights creates an unparalleled experience that will stick with your forever. So, pack your bags and get ready to emBARKon an extraordinary journey in the Arctic.