1. Go North

The further north you go, the higher the solar activity will be, which means you'll have a greater chance of catching the lights. So if seeing the Green Diva dancing is one of your main goals for your vacation, make sure you go to the northern parts. Tromsø, Svalbard, Bodø, Lofoten and Kirkenes are all popular places, but feel free to do some research and find your favourite travel destination.
2. Chase the Northern Lights During The Right Time
The Northern Lights season in Norway lasts approximately from mid September to late March / early April. What you need is a dark and clear sky and loads of solar activity.

September-October: These months doesn't have long dark periods, but there is a lot of solar activity during this time, making it possible to see the lights.

November-February: Darkness is guaranteed, but there is a greater chance of snow and cloud cover, which could hurt your chances of seeing the lights.

March: The spring comes with more daylight, but the solar activity is usually high this month.


3. Stay Long Enough
As the Northern Lights are a natural phenomenon there is never any guarantee that the lights will appear during your holiday. Ideally you'll want to stay long enough to "wait out the bad weather", and 4-5 days should in most cases give you enough time for a successful chase.


4. Escape the Light Pollution

To make sure you get a proper view of the Northern Lights, it's important to get away from the light pollution caused by cars, buildings, signs – and the biggest light polluter of all; the sun.
In most cities in Norway, you don't have to travel very far to get away from the lights, you can go to a field, parks or beaches in pretty close proximity to the city and be able to see the Green Lady dance.


5. Wear Warm Clothes
The northern Norwegian winter can be a chilling experience, but as long as you dress appropriately, you should be okay to stand the cold long enough to chase Aurora.

The best base layer is thin wool undershirt and longs/leggings (honestly, Norwegians swear by them). Thin wool in direct contact with your skin will help transport the humidity from your body and keep you warm at the same time – and no, these garments are not itchy, we promise!

The next best thing to put on is more wool. A nice thick sweater will do wonders to help you keep warm. Also make sure you bring a warm coat (or even better, a thermal suit), a scarf, hat, gloves – and one of the most important things of all; warm winter boots.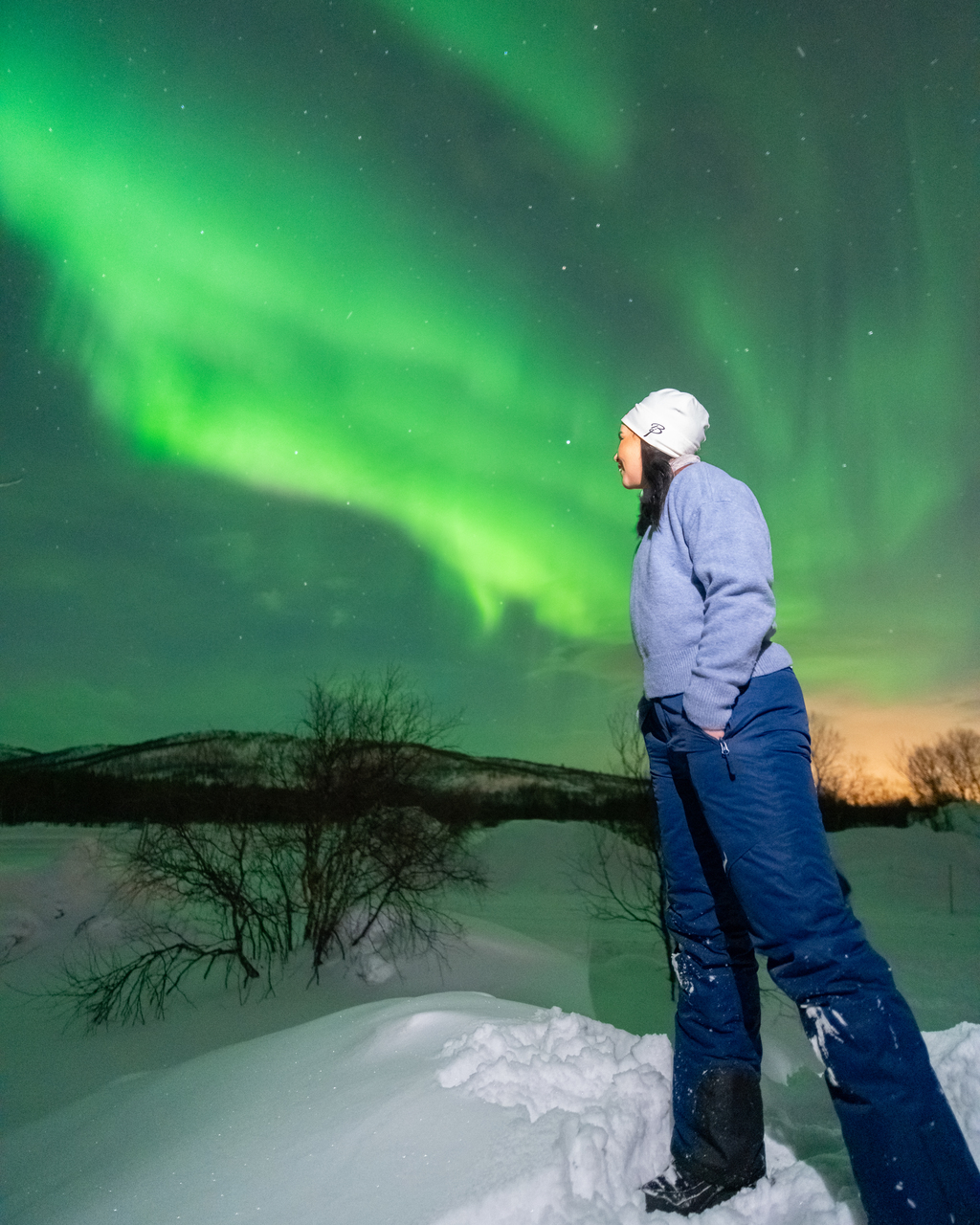 6. Consider Going on an Organised Tour
The Northern Lights are a natural phenomenon and there is no guarantee to see them, either by venturing out on your own or by going on a tour. First time visitors, with minimum time, may want to consider an organised tour, as experienced guides who are used to paying attention to the forecast and weather and who knows where to find the best lookout points and photography spots. Also make sure you go through a trustworthy company with professional and skilled guides as you may be approached by people claiming to be licenced guides without this actually being the case.


7. Pay Attention to the Forecast
A dark and clear sky is what you want when chasing the Northern Lights. In addition to the weather forecast, there are Aurora Forecasts predicting when the lights will appear next. You can download an app to your phone, so you can see the likelihood of when the lights will appear in the area you are staying.


8. Plan Other Activities and Excursions
Sometimes the Northern Lights won't appear during your vacation even if you did "everything right". To avoid setting yourself up for disappointment, it's a good idea to not make your trip solely about seeing Aurora Borealis.

Popular winter activities in the north include dog sledding, skiing, ice fishing, reindeer sledding and more. There are also cultural events like the Arctic Cathedral, The Polar Museum and various music and film festivals to check out.
You can read more about other popular activities here:
The Ice Hotels in Norway

Northern Lights Cruise in Tromsø, Norway