Visiting Ålesund? Åndalsnes is a must-visit while travelling through western Norway. Walk among the characteristic Art Nouveau buildings in Ålesund, and visit Åndalsnes for more thrilling adventures.
Dubbed one of the world's most beautiful harbour cities by National Geographic Ålesund has a lot to offer. In 1904 a town fire left the city in ruins. Around 850 houses burned to the ground and more than 10,000 people were left without homes. As the houses were rebuilt in the Art Nouveau style, the reconstructed city ended up with one of the most characteristic building structures in Europe. At the Art Nouveau Centre and the Art Museum KUBE you can learn more about the town's history serving as a dramatic backdrop for your stay.
There are also many other things to explore in Ålesund. Jump into a kayak and paddle through the Brosundet canal. Walk the 418 steps to the top of Aksla and marvel at the gorgeous view from the roof of Ålesund. Or hike up to Sukkertoppen and enjoy the view from the other side of town. Visit Atlanterhavsparken and explore life below the surface in Northern Europe's largest and most unique saltwater aquarium.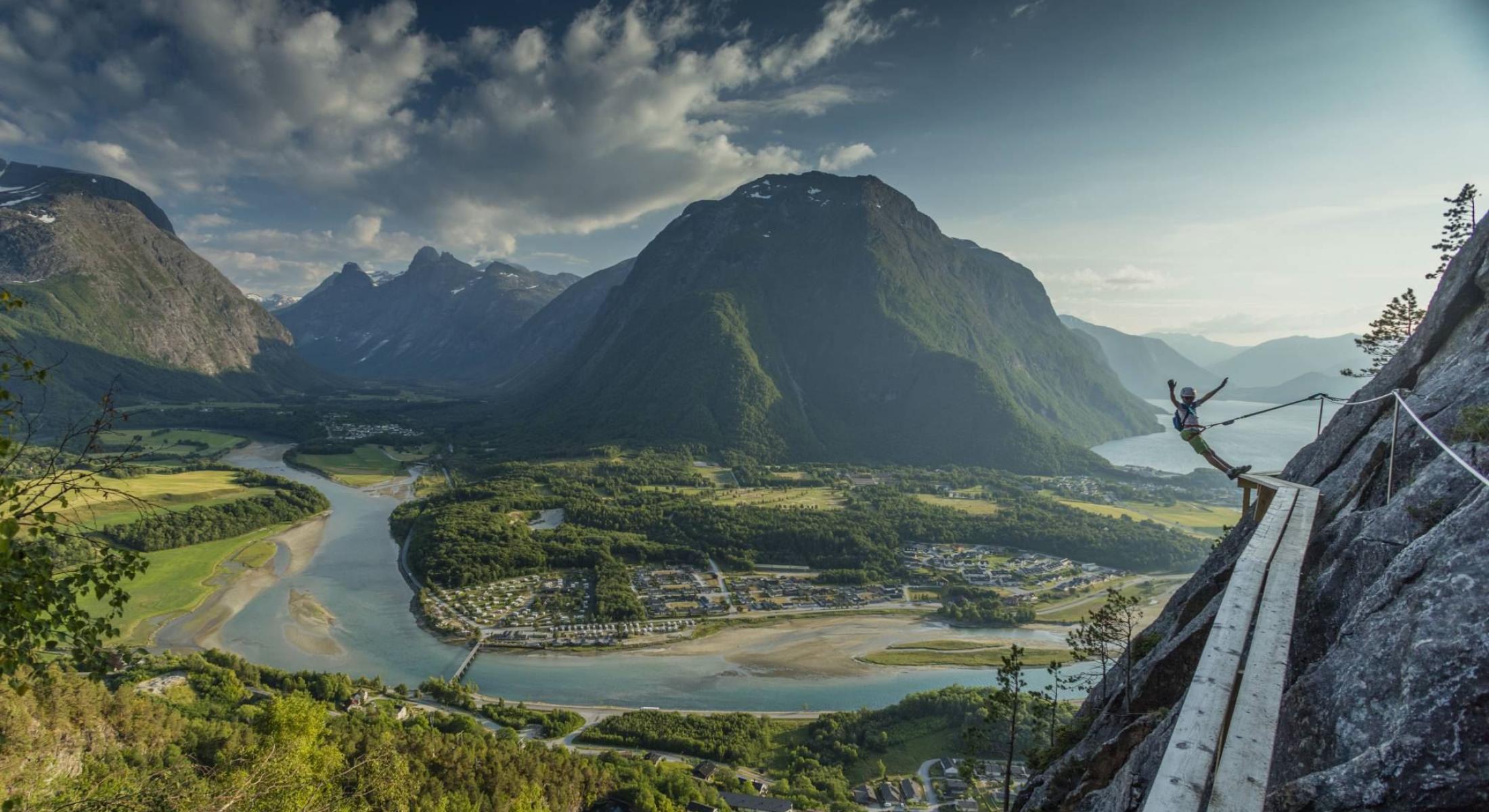 If you are looking for the next stop on your road trip, Åndalsnes, Romsdalen is a great choice.
Located two hours drive from Ålesund, you can take part in unique experiences amongst beautiful fjords and dramatic mountain landscapes. Let the Romsdalen Gondola lift you from the bottom of Åndalsnes to the top of Nesaksla Mountain while you marvel at majestic peaks and lush valleys. Dine above the clouds at Eggen Restaurant, 708 metres above sea level and enjoy an unforgettable dining experience.
Visit Rampestreken, step out on the steel ramp, and take in the view of the surrounding peaks. Go on a furry adventure and let a team of Siberian huskies lead the way as you go dog sledding through beautiful scenery. Tackle the mountains in new and exciting ways by Via Ferrata or rock climbing. Take on the Romsdalseggen route and enjoy spectacular views of Trollveggen, Romsdalshorn, Kongen, Dronningen, Bispen and Trolltindene. No matter what hiking trail you follow in Romsdalen, you will be blessed with stunning nature.