1) Trollstigen – A Thrilling Car Ride
On top of the viewing plateau Trollstigen, even the toughest mountain hikers can feel the dizzying views hit you in the gut. This national tourist road connects Valldal on Sunnmøre and Åndalsnes in Romsdalen and stretches over 104 kilometers. Here you get to experience the striking west Norwegian scenery at its most dramatic.

With 11 sharp hairpin turns, Trollstigen is known as one of the roughest car journeys. Make your way through the serpentine curves by car or battle your way to the top by bike. This is also the perfect base for a number of different hikes such as Kløvstien, Stabbeskaret and Trollveggen.

2) Romsdalseggen – One of Norway's Most Beautiful Mountain Hikes

This narrow and airy route is one of Norway's most beautiful mountain hikes. Although it is a demanding hike, the hours go by quickly thanks to the magnificent surroundings and some of the most spectacular mountains in all of Norway. Greet the King, Queen and Bishop, and enjoy an amazing view of Romsdalshorn, Trolltindene and Romsdalsfjorden.
3) The Romsdalen Gondola – Take a Shortcut to Epic Views
Enjoy 360-degree views of steep mountains and deep valleys while Norway's longest skylift transports you 1679 meters up to Nesaksla. The Romsdalen Gondola brings you from the fjord to the mountains in approximately five minutes.
At the top of Nesaksla, 708 meters above sea level, you can enjoy the scenery, go down to the lookout point Rampestreken, or treat yourself to a superb meal at Eggen Restaurant. The restaurant serves traditional dishes based on local seasonal ingredients. If you are up for it, you can also hike up to Rampestreken from the centre of Åndalsnes and take the gondola down again.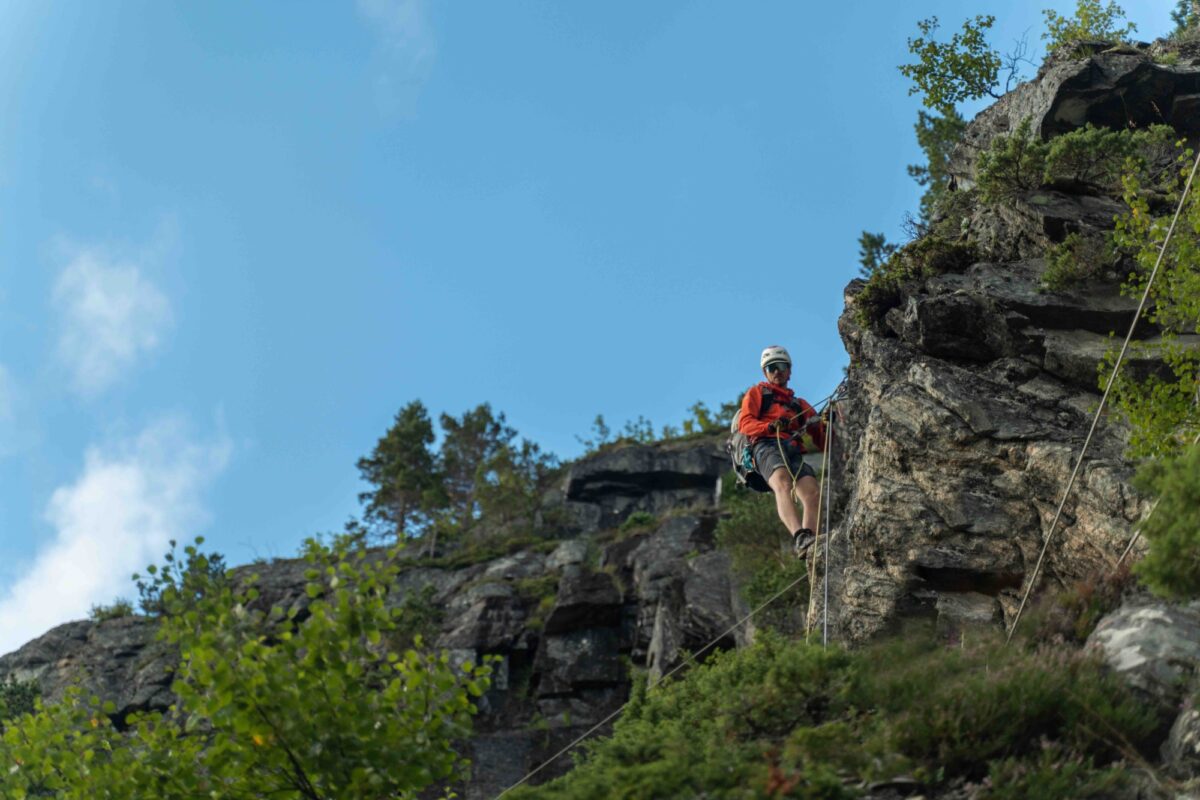 4) Enjoy an Active Holiday in the Great Outdoors
Romsdalen is the perfect playground for any adventurer. Take a SUP tour on the Istra River and slide on the emerald green water while enjoying the beautiful nature. Step out of your comfort zone and tackle the mountain on a via ferrata route in Trollstigen. Take a kayak trip or try an indoor climbing course at the Norwegian Mountaineering Center. Or try one of the most extreme activities in the area – tandem paragliding. Whether you prefer the water or the mountain, you will be spoilt for activity choices in this area.


5) The Rauma Railway – Europe's Most Scenic Train Journey
This journey takes you from the steep mountains in Dombås to the beautiful fjord in Åndalsnes. It may not be the longest train ride, but what a ride it is! In just one hour and 40 minutes you'll get to enjoy countless of spectacular experiences. Lonely Planet has previously named this Europe's most beautiful train journey.
Lean back and enjoy the varied landscape while the train passes well-known attractions such as Trollveggen, Kylling Bridge and Verma Waterfalls. Once in the Mountaineering Capital, new adventures await anyone seeking an active holiday.