Åndalsnes is known as the mountaineering capital and is a popular destination for anyone wishing to explore the many mountains in the area. Åndalsnes is located at the end of Romdalen in Western Norway where you'll find the emerald green Rauma river, luscious valleys and dramatic mountain peaks. If you want to see more of Romsdalen and don't know where to start your mountain adventure, we put together a list of recommended spots below.
Rampestreken and Nesaksla
The Rampestreken viewpoint lies 537 meters above sea level and offers amazing views over all of Åndalsnes. You'll start your trip from the centre of Ånsdalsnes and follow the route to Nesaksla. The trail consists of stone steps ​​made from sherpa stones, and there are also handlebars to hold on to as you go. After you have walked for about 1,5 hours you'll reach Rampestreken. This viewpoint consists of a 20 meter long steel ramp, where the last 8 meters go straight into the air! When you are done enjoying the view you can continue walking for another 15-30 minutes up to Nesaksla, where you'll find plenty of hiking and bike trails plus a restaurant where you can enjoy a nice local meal before heading back down. The Romsdalen Gondola goes from Åndalsnes all the way up to Nesaksla, making it easy to combine a hike to Rampestreken with a gondola ride. This is the longest skylift in Norway and offers amazing views over the peaks and valleys as you go.
Bispen, Kongen og Dronninga
Kongen, Dronninga and Bispen are three well-known peaks in Åndalsnes. You can hike to Bispen (1462 above sea level) in about 3-5 hours. You can also extend the trip and continue to Kongen and Dronninga.
Kongen is a bit of a tougher hike, taking about 6-8 hours to complete. After reaching this peak you can continue to Dronninga (1544 meters above sea level). Whether you hike to Dronninga from Kongen or from the parking lot in Vikdalen, this is a long trip (8-10 hours). All peaks offers amazing views.
If you want, you can combine your hiking adventure with an overnight stay in a hammock at the foot of Trollstigen. There you will find a customised hammock area with access to toilet, shower and kitchen facilities, as well as two barbeque areas.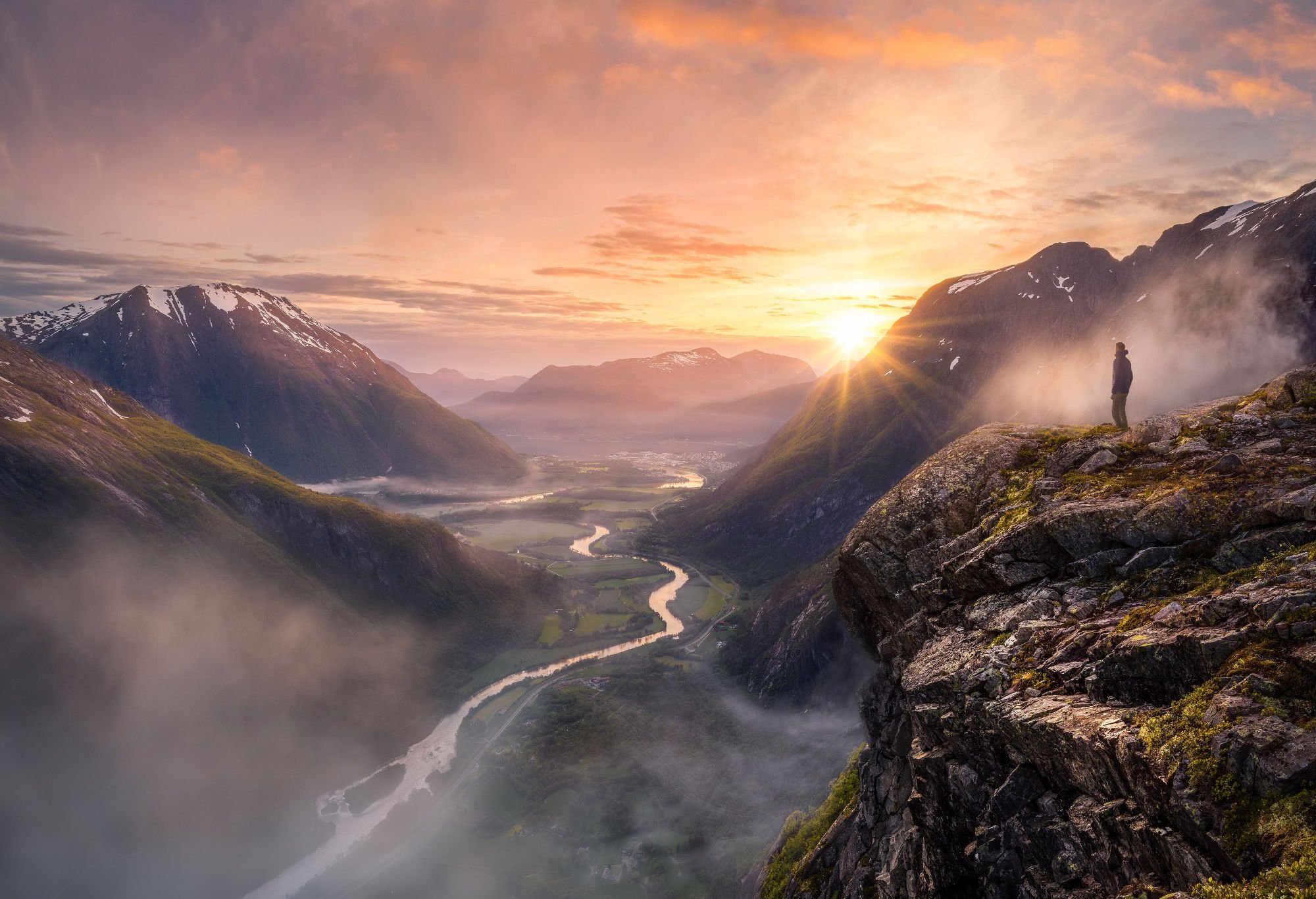 Romsdalseggen

Romsdalen – one of Norway's most beautiful hikes takes about 6-8 hours to complete. On this 10 kilometre hike you will pass well-known spots such as Trollveggen, Romsdalshorn, the Isterdal Valley, the Rauma River, the Bishop, the King and the Queen before reaching Nesaksla. From here you can walk back down to Åndalsnes and stop by Rampestreken viewpoint on your way down, or you can catch a ride with the Romsdalen Gondola.
Litlefjellet
Litlefjellet is a light version of Romsdalseggen, easily accessible for most and very family friendly. It only takes about 20-30 minutes to walk from the starting point and at the same time you get amazing views of Trollveggen, Trolltindene, Åndalsnes and the Romsdal Fjord. This hike gives you a lot of reward for very little effort. You can join a hike to Litlefjellet, bring your lunch and enjoy some of the wildest nature Norway has to offer.

The route is marked throughout and it's easy to find your way. The trip starts in Venjedalen, about one kilometer from Vengedalsvatnet. The beginning is quite steep but it's a very defined trail and therefore not the hardest of walks. You'll be walking about 140 meters upwards to Litlefjellet, which lies 790 meters above sea level.
Romsdalsstigen via Ferrata
If you are looking for a more extreme adventure, the Romsdalsstigen Intro wall route is the perfect introduction to Via Ferrata climbing. Via ferrata means "iron path" in Italian and is a facilitated climbing route with fixed ladders, cables, and bridges, to accommodate people who are not mountain climbers. In places where natural footing is missing, steps have been put in place.
Our intro route takes 3-4 hours and you don't need any previous climbing experience to take part. You will be guided by professionals and secured to the mountain by cable throughout. If you have previous climbing experience you can also rent your own climbing equipment and tackle the climb on your own.