Sleeping in an Ice Hotel – What you need to know when spending a night bed made of ice!
At Kirkenes Snowhotel you can take part in a huge range of Arctic winter activities and have a warm and comfortable stay in the cozy gamme cabins. If you are feeling a bit more adventurous, however, you can spend a night in the magical kingdom of snow and ice!
Kirkenes Snowhotel offers a unique opportunity to sleep in a bed of ice surrounded by beautiful ice sculptures illuminated in different colours


Read more about the Ice Hotels in Norway


Are you up for a cool night?
The ice hotel holds a constant temperature -4°, so you might think that the best way is to pile on as much clothes as possible. Actually, the biggest mistake most guests make when sleeping here is wearing too much clothes. Wearing several layers of clothing, massive sweaters and wool on top of wool, will make you sweat, which again will make you cold. The sleeping bags are meant to be used in -25° and covers most of your body, so the most important thing is to cover your head and wear one thin base layer.


This is the recommended attire

Balaclava

Wool socks

Thermal underwear, woollen, only one layer, not too thick.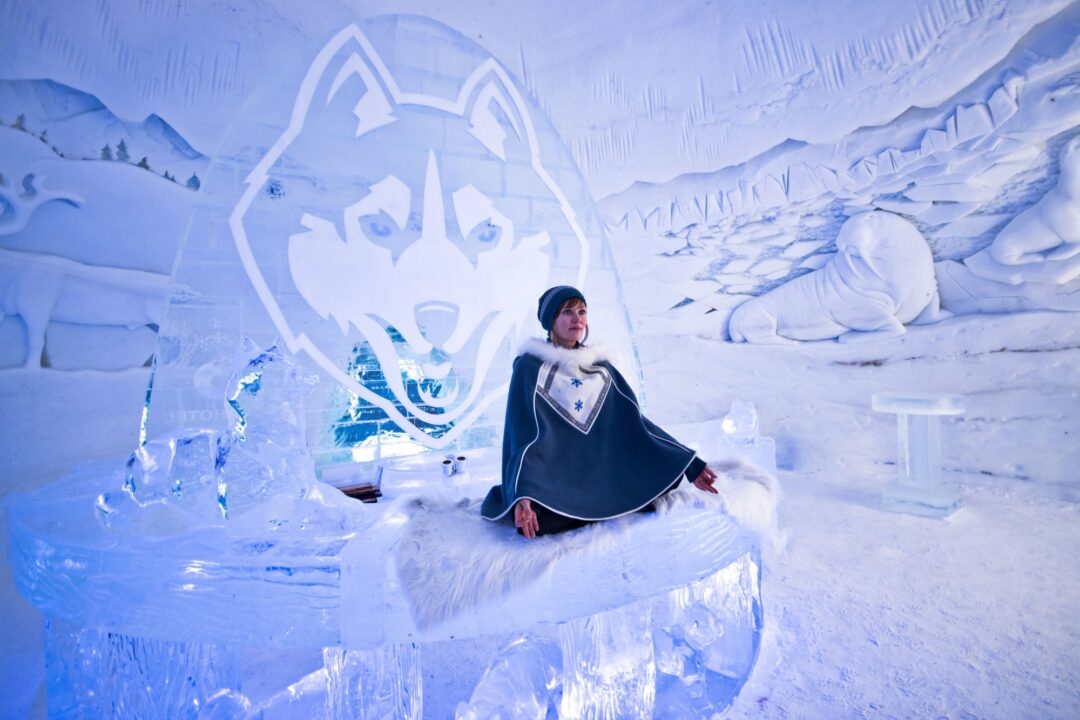 The snow hotel will provide a warm thermal sleeping bag, socks and a balaclava. Make sure the balaclava doesn't cover your mouth and nose – as you breathe the balaclava will get wet, and again, you will get cold. Most guest say that they are very warm and comfortable during the night – the only place they felt a bit cold was on the tip of their nose.

Another challenge is getting up in the morning. You know the feeling when your bed is warm and the room is cold? You will definitely feel an extreme version of this when waking up here – the room is literally ice cold. Luckily the snow hotel is connected to a warm lounge with sauna, toilets and showers – available 24 hours – should you need to warm up.

Hot tip

Do not wear shoes to bed.

Do not drink too much before going to sleep – you don't want to leave your cosy sleeping bag to go to the toilet during the night.

If you need a shower, don't do it right before bed


PS: When returning from a snowmobile ride or a husky safari during the Arctic winter, you might be wet and cold and just longing for a warm shower. Maybe the last thing you want is to go to sleep in a bed made of ice.


Would you be more tempted to spend the night in the icy cold room during summer? You can! The ice hotel in Kirkenes keeps open all year! Walk from the green summer to the magical winter kingdom and fall asleep to utter silence inside the snow walls.