We offer a huge range of accommodation alternatives at our destinations – everything from comfortable hotels to more rustic alternatives. If you are feeling a bit adventurous and want a unique way to spend the night, you might want to try something different than the standard hotel. Below we have listed some options that will ensure that you get an unforgettable night.
Snowhotel Kirkenes 365
Snowhotel Kirkenes 365 is by far the most unique hotel in Kirkenes. This is the first snow hotel in the world to keep open 365 days a year! With a temperature of -4°, you are in for a cool and magical night. You'll get a thermal sleeping bag and some tips on how to stay warm to ensure you get a comfortable night. You'll also have 24/7 access to a warm lounge with showers and saunas in case the cold gets a bit too much for you. During your stay you can take part in loads of activities typical for a Northern Norway vacation, such as dog sledding, Northern Lights trips and king crab safaris. It's even possible to book a husky airport transport to this hotel, truly setting the scene for a magic start to your experience.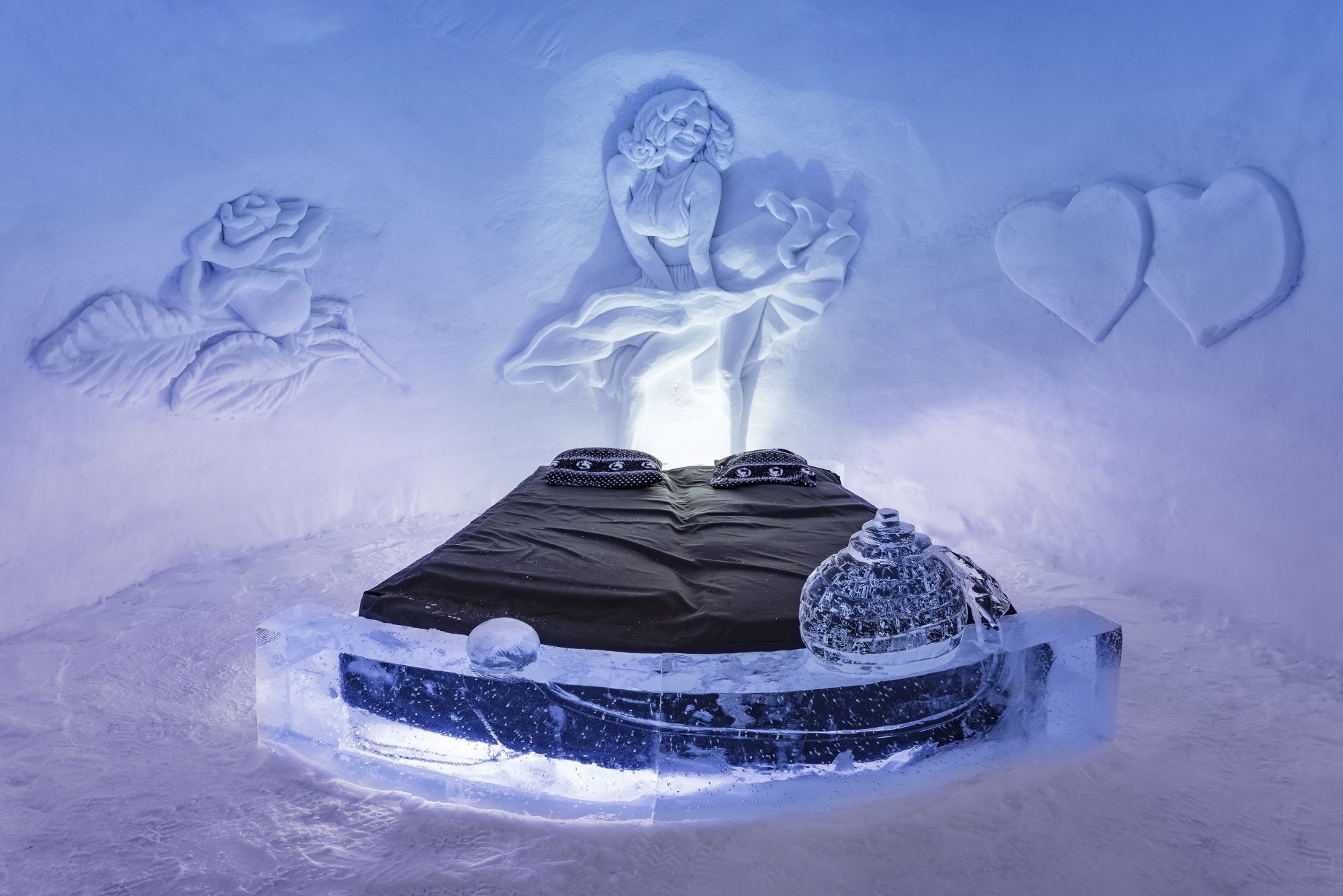 Camp Tamok and Tromsø Ice Domes
Camp Tamok is a wilderness camp, which during wintertime is the start and end point for a lot of Lyngsfjord Adventure tours by dog sled, snowmobile and reindeer. It is also possible to spend the night at the camp allowing guests to experience the authentic north and true proximity to the beautiful nature. Camp Tamok is located in an area with optimal conditions to go on a Northern Lights tour as the dry climate generates many cloud-free nights. The camp consists of traditional lavvus and timber cabins with modern kitchens, showers and toilet facilities. This creates the right balance between an authentic experience and modern comfort.
In the beautiful Tamok Valley, you'll also find Tromsø Ice Domes, which are built every year as the Polar Night approaches. Here you can find ice sculptures with different themes, including the Sami culture, wildlife and Northern Lights. There is also an ice bar, ice cinema, ice restaurants and an ice bedroom with the possibility to to spend the night.
A Hammock Experience in Romsdalen
Romsdalen in western Norway has an idyllic location with magnificent fjords and massive mountains. If you are looking for a beautiful outdoor adventure, Romsdalen has a customized hammock area at the foot of Trollstigen. The area has access to toilet, shower and kitchen facilities, as well as two designated barbeque areas. Falling asleep outside in the fresh air with views to Trollstigen, Bispen, Kongen and Dronninga will undoubtedly give you an unforgettable night!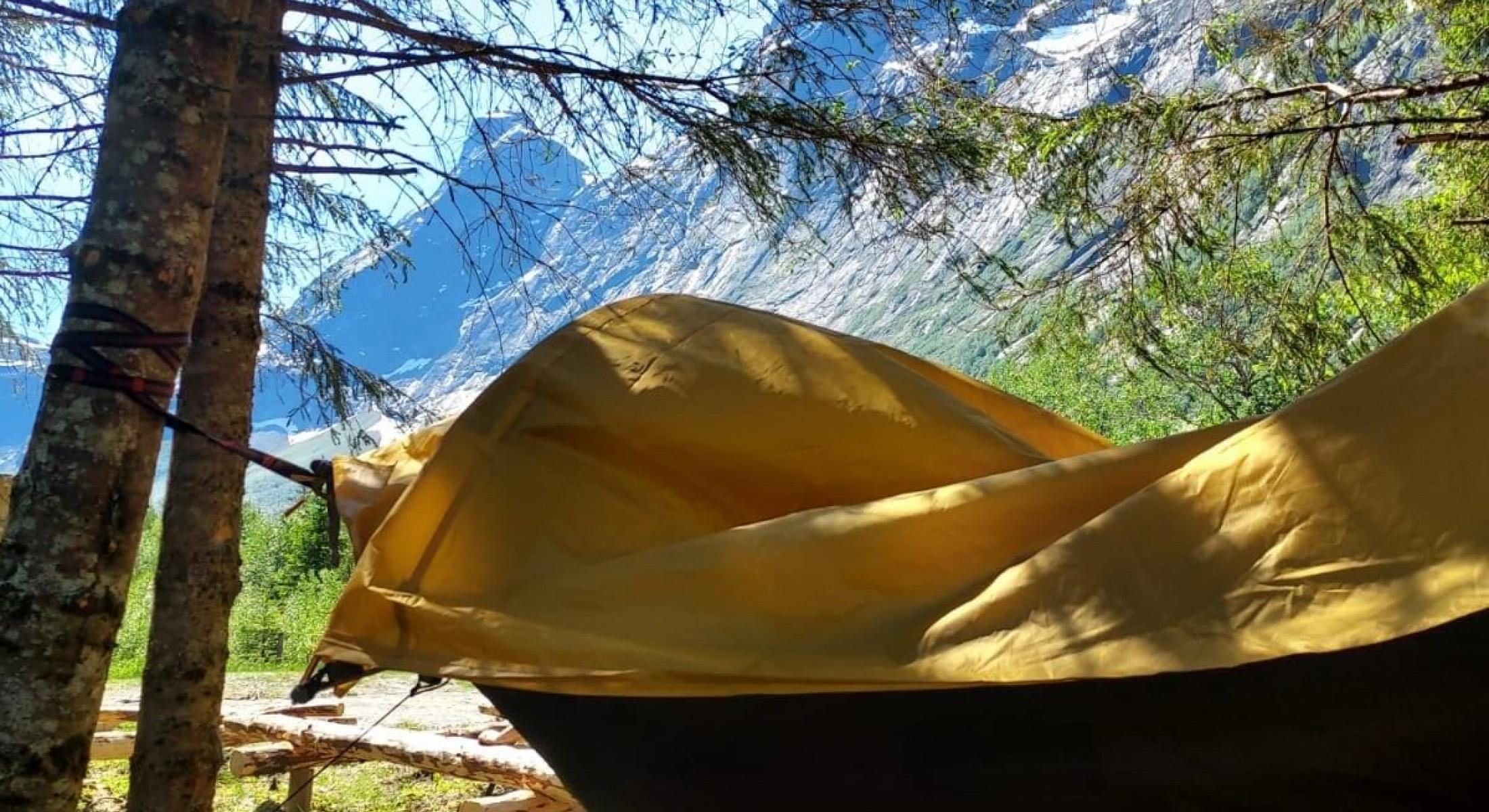 Traditional Fishing Shacks in Lofoten
A rorbu is a seasonal fishing shack traditionally used as housing for fishermen during the fishing seasons. If you want to stay in an authentic cabin with modern amenities, Lofoten offers several options in its many fishing villages. Å Rorbuer consists of 20 cabins by the sea where you can stay overnight and enjoy amazing views of the mountains and nearby water.
Nyvågar Rorbuhotell is located by the sea in an area called Storvågan and offers comfortable and spacious cabins with hotel standards. Reine Rorbuer is centrally located in Reine and offers newly restored cabins that combine the atmosphere of the traditional shacks with modern comfort.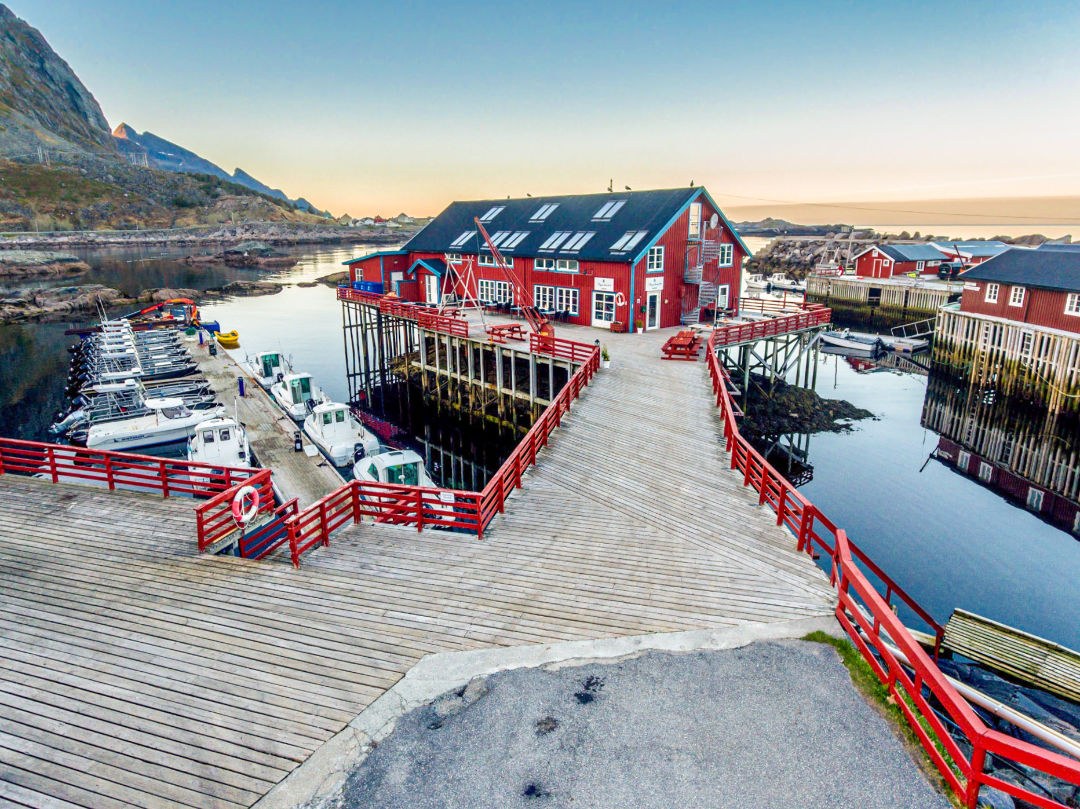 Grand Hotel in Romsdalen

At first glance the Grand Hotel in Åndalsnes might not seem like a special accommodation alternative, but there is a lot of history connected to this place.The legacy of the hotel dates back to the 19th century and among the many tales to be told about Grand there has been a fire, a complete rebuild and a long list of renovations. Grand Hotel gives you a unique insight into history through its interior and decoration and is perfectly located for nature lovers wanting to explore the many mountain trails in the area. At the foot of Romsdalseggen, this hotel is just a quick stroll away from the Romsdalen Gondola, the Tindesenter and the walking path up to Nesaksla.